Redeeming with paperless vouchers
From late April 2021 we're launching a new way to redeem with paperless vouchers! itison customers will show their voucher on their mobile device, allowing you and your team to quickly redeem, getting you paid faster.
Keeping covid-safe - contactless redemption
Keeping you and your team safe is really important to us. All steps to redeem vouchers, following the paperless process, remove any need to touch a customer's mobile device, helping you and your team maintain a safe distance at all times.
What does paperless vouchers mean for you?
redeeming vouchers instantly when a customer is in your business means your Hub will always be up to date
paperless vouchers are only available on valid vouchers. If a voucher has already been redeemed, is expired or cancelled, the option for paperless vouchers will not be displayed
there's no need for you to collect paper vouchers, scan a QR code or enter a PIN to redeem with paperless vouchers. Simply ask the customer to log in to their itison.com account online, find their voucher and walk through the steps below
How does it work once an itison customer arrives at your venue?
the customer logs in to their itison account at itison.com
the customer visits their 'My Vouchers' page and locates their voucher
the customer has the option to 'use paperless voucher' and clicks the green button to get started
the customer will be shown prompts to make sure they are in the venue and are with a member of your team, before starting the redemption process by clicking the green button
once clicked by the customer, the voucher will be fetched and the code will be confirmed by our systems
your team can 'view details' to check the small print (we recommend the mobile device is held by the customer during this process)
once your team member has read and verbally accepted the voucher is good use, the customer clicks the green button
your team member will then be given a further prompt (as a final check) to ensure you're happy to redeem, before the customer clicks the green 'accept voucher' button to complete the process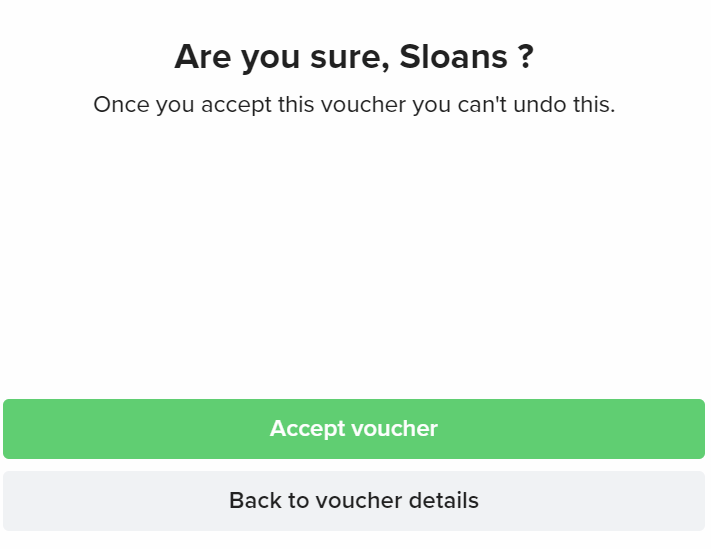 How do I exit the process?
To exit the process at any time, the customer can simply click one of the grey button options instead of the green.
Getting involved
If you would like to be given early access to paperless vouchers on your feature, please contact us at hostservices@itison.com