Every itison customer will have a voucher, either printed or on their phone. For redeeming vouchers, you will either need the QR code (if using our scanner app) or the full voucher code and verification PIN.
Scanner App
The quickest and easiest way to redeem vouchers is using the QR code and HUB iOS or Android Apps.
Simply download the app, scan the QR code and click redeem.
HUB desktop
Sign in to HUB at: https://www.itisonhub.com/sign_in
In the left-hand navigation bar click Redeem vouchers
Search for the voucher
In the grey box, start typing the voucher code - after the first 4 digits are entered you should see the full code populate or options for the most likely codes appear for to you select.
To view the status of the voucher click 'view voucher details'
Mark the voucher as 'booked' (optional)
Where a voucher is valid for use you will have the option to 'book voucher', this will identify to both your own team as well as itison that the voucher holder has booked their experience with you. Should the member then contact you or itison directly to cancel their voucher you will have the opportunity to update your bookings.
Click 'book voucher'
And a pop out will confirm the update
To unbook the voucher, simply click the pink text.
Redeem the voucher
Where a voucher is valid for use and you're ready to redeem, click 'redeem voucher'
In the pop-out window, enter the 4 digit PIN listed on the voucher and click 'redeem'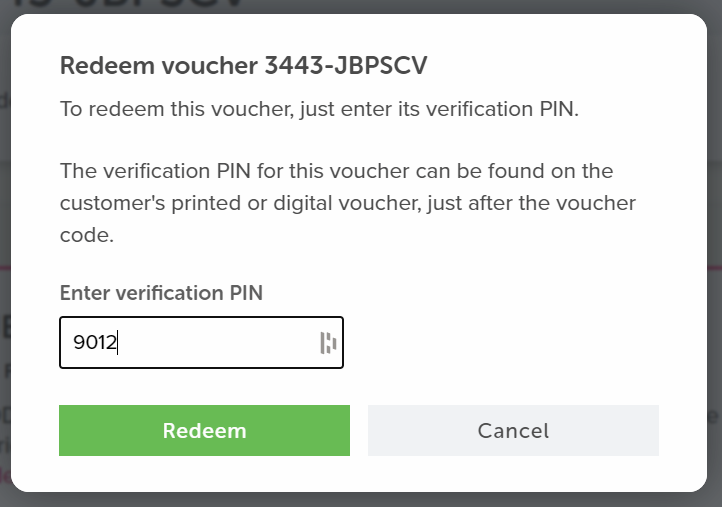 A further pop-out will confirm the action has been taken
If the voucher code or verification PIN you've been given by an itison customer isn't work or returning any results it's likely that one or more of the digits is incorrect; please email us at hostservices@itison.com and we'll be happy to help and confirm the correct details.